Rave Reviews for Future Scholar - From Those Who Know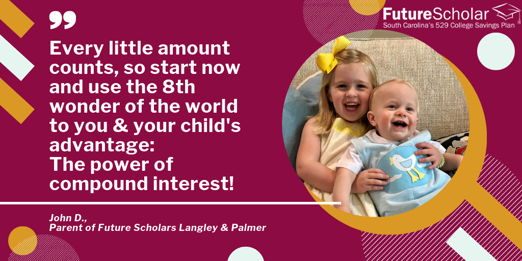 This September as we celebrate College Savings Month, Future Scholar is also celebrating 17 years of 529 college savings in South Carolina. At 17, Future Scholar is about the same age as many of the high school students who are excitedly making their plans to begin their college careers. 
Over the years, smart families have been planning, too, choosing a path that is helping them meet the substantial college expenses their children face. These families have found Future Scholar to be a great way to combat rising college costs, and they're happy to report that not only has the plan helped them accomplish that mission, it has also earned 5-star reviews in the process.
Check out what parents who are using their Future Scholar savings to pay for a child's college have to say about choosing the smart, easy way to save.
Overall rating:
★

★

★

★

★ 

Matthew B. - Fort Mill
My oldest daughter just completed her freshman year at Clemson, exclusively financed with the help of Future Scholar. You should start to save now - even if it is only $25 per month and keep raising the amount as your budget allows. SC residents get state tax breaks, and Future Scholar has a solid investment line-up, fair fees and very helpful customer service if you need it, but you'll be able to get most of what you need from the website.
---
★

★

★

★

★

Charles H. – Simpsonville
We opened an account for each of our daughters when they were born. We invested heavily in them from ages 1-5 and then invested for growth in the Future Scholar funds. The SC tax deduction provided an excellent benefit as did the tax-free growth. Today, each of their accounts has grown to a level that will cover their undergraduate costs with some remaining for graduate school. Future Scholar has been great for us. The cost of a college education is growing at a remarkable rate. Future Scholar provides a means of offsetting that growth. Tremendous!
---
★

★

★

★

★

Andrea T. – Columbia
Future Scholar is helping to fund my daughter's medical school tuition. Medical school is so expensive and has few scholarships. It helps to ease the worry about burdening my child with lots of debt from higher education costs. Future Scholar savings will pay a significant amount of the costs, so her debt, if any, will be much more manageable. A word of advice: The sooner you start, the longer the savings can accrue. Even if it is just a little bit, it will grow faster than you think. Education is one gift that you can give your child that can never be taken away.
---
Take a bow, Future Scholar, and Happy College Savings Month!
It's the perfect time for you to open your own account to begin saving for your child's future. You can be sure Future Scholar will continue to work hard to get rave reviews from families like yours.
To learn more and open a Future Scholar account today, visit www.FutureScholar.com.