Treasurer Curtis Loftis Recognizes Upstate Educators for Financial Literacy Success
State Treasurer Curtis Loftis recently recognized three Upstate teachers for their excellence in promoting financial literacy.
Wendy Garrison, Tracy Gay and Stacey Padgett, all fifth grade teachers at Crestview Elementary School in Greer, were named Future Scholar Financial Literacy Program Educators of the Month for March.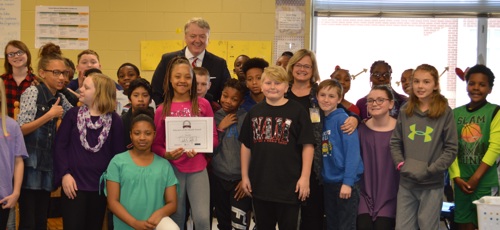 "Crestview Elementary has one of the highest completion rates in the state, with 363 modules completed," Treasurer Loftis said. "Given that this is its first year offering the program, Wendy, Tracy and Stacey have demonstrated a remarkable commitment to integrating financial literacy education into the curriculum."
Eighty-four Crestview students are currently taking part in the program to improve their knowledge of critical financial literacy skills, with 50 students having already achieved certification.
Treasurer Loftis, Future Scholar and SC Economics have partnered with education technology company EverFi, Inc. to bring the Future Scholar Financial Literacy Program to South Carolina elementary and middle school students at no cost to schools or taxpayers. The web-based financial management course focuses on skill-building, budgeting and decision making.
Since 2015, the program has reached more than 23,000 students at 235 S.C. schools.
For more information or to learn how you can bring the Future Scholar Financial Literacy Program to your classroom, visit www.scfuturescholar.everfi.com.
About Future Scholar
Future Scholar is South Carolina's 529 Savings Plan. It is administered through the State Treasurer's Office. For more information, visit FutureScholar.com or follow @SCStateTreasurer on Facebook. No state funds are used to market Future Scholar.