Treasurer Curtis Loftis Presents Winner of BabyTona 500 With $529 for Future Scholar Savings Account
COLUMBIA, S.C. (Feb. 12, 2018) – Emerson Shettle is still years from starting school, but she's already doing her part to put aside money for college. Emerson won the BabyTona 500 at the USC-UConn women's basketball game Feb. 1, and with it a $529 contribution from State Treasurer Curtis Loftis for her 529 Future Scholar savings account.
"It's never too soon to start saving for college," Treasurer Loftis said. "If you start saving when your child is young, you can help set yourself up to be able to meet the costs associated with higher education."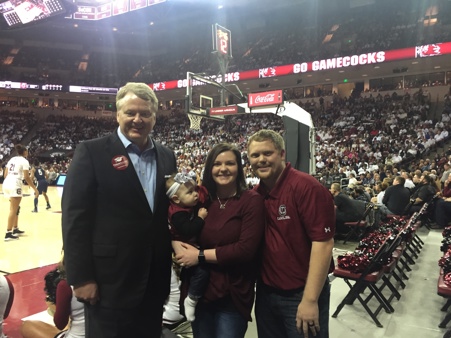 BabyTona 500 was held during a timeout in the USC-UConn basketball game, with five children ages four and under competing in the baby crawl. Not only were Emerson's parents cheering her on at the game, but her grandparents and great-grandparents were also on hand.
Kenny and Megan Shettle, who live in Blythewood and attend several Gamecock sporting events a year, opened a Future Scholar account for Emerson a year ago, recognizing that it was "a wonderful way" to put aside money for college, according to Kenny.
"We know the earlier we start the better off we will be," he said. "Opening an account means we have started laying the foundation for Emerson to go to college."
Treasurer Loftis added, "Future Scholar is the smart, easy way to save for college. It makes good financial sense to start saving early and avoid the sticker shock that can come when facing the realities of tuition, room and board, and books."
About Future Scholar
Future Scholar is South Carolina's 529 Savings Plan. It is administered through the State Treasurer's Office. For more information, visit FutureScholar.com or follow @SCStateTreasurer on Facebook. No state funds are used to market Future Scholar, this contest or its prizes.