Treasurer Curtis Loftis Presents Aynor Family with $529 College Savings Contribution for Diaper Dash Sweepstakes
COLUMBIA, S.C. (Feb. 12 , 2018) – During a recent visit to Myrtle Beach, State Treasurer Curtis Loftis presented Brad and Mindy Kavetski of Aynor with a $529 College Savings contribution for their son Bennett, as part of the Future Scholar Diaper Dash online sweepstakes.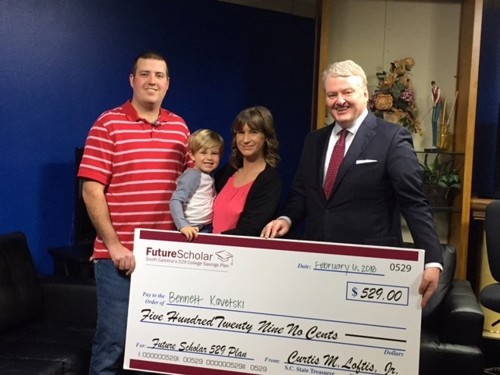 The Kavetskis know how important it is to save for their child's future college education. That's why they opened an account for their son Bennett shortly after he was born three years ago. When Brad learned of the Diaper Dash sweepstakes, he posted Bennett's photograph in hopes of winning a $529 contribution for his son's Future Scholar account.
The Diaper Dash Sweepstakes was an online contest where participants submitted a photo of their child, ages four and under, on Facebook with the hashtag diaper dash. Winners were selected by a random drawing, and Bennett's winning entry was announced on January 30. 
"Future Scholar is the smart, easy way to save for college," Treasurer Loftis said. "Given the rising costs of higher education, it makes good financial sense to start saving early and avoid the sticker shock that can come when facing the realities of tuition, room and board, and books."
Brad, a lieutenant with the Horry County Fire Rescue, said he and his wife were excited about the contribution.
"Every dollar counts," he said. "We started this when Bennett was born and month by month we put a little bit toward savings, so hopefully by the time he's old enough to go to college we'll have enough to help him get a degree."
About Future Scholar
Future Scholar is South Carolina's 529 Savings Plan. It is administered through the State Treasurer's Office. For more information, visit FutureScholar.com or follow @SCStateTreasurer on Facebook. No state funds are used in the marketing of Future Scholar, this contest or its prizes.