State Treasurer Curtis Loftis Salutes Pickens County Educator for Excellence in Financial Literacy Education
South Carolina Treasurer Curtis Loftis recently recognized Kela Simpson of West End Elementary School in Easley as May's Future Scholar Financial Literacy Program Educator of the Month.
"We applaud Ms. Simpson's passion for bringing financial literacy to these young students who otherwise might not be exposed to these life-changing concepts," Treasurer Loftis said. "The financial skills they learn will not only benefit these students as individuals, but will also add to the future economic stability of our state as a whole."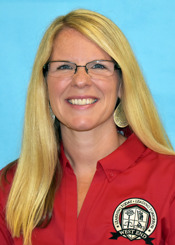 Ms. Simpson is the Title I coordinator at West End Elementary, where nearly 70 students participate in the Future Scholar Financial Literacy Program.
"We are a Title 1 school with roughly 70 percent of our students receiving free or reduced-cost lunches," Ms. Simpson said. "We serve the city's government-housing complex and other pockets of impoverished neighborhoods.
"Many students are unable to experience budgeting and saving, much less goal-setting for themselves at home. This program gives them an opportunity to think about money and their future in a whole new light," Ms. Simpson added.
The Future Scholar Financial Literacy Program, offered to elementary and middle schools across the state at no cost to taxpayers, is a web-based financial management course that focuses on skill building, budgeting and decision-making.
For more information about the Future Scholar Financial Literacy Program, visit www.scfuturescholar.everfi.com.
About Future Scholar
Future Scholar, South Carolina's 529 College Savings Plan, is administered through the State Treasurer's Office. For more information, visit FutureScholar.com or follow @SCStateTreasurer on Facebook. No state funds are used in the marketing of Future Scholar or the funding of the Future Scholar Financial Literacy Program.