State Treasurer Curtis Loftis Recognizes William S. Chappell of HCS Early College High School as Educator of the Month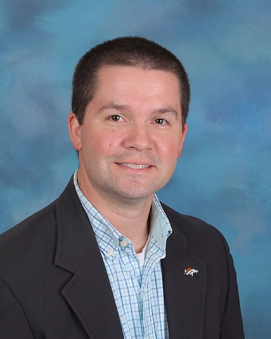 South Carolina Treasurer Curtis Loftis has recognized Horry County Schools' William S. Chappell of (HCS) Early College High School as the South Carolina Financial Literacy Master Teacher Program's Educator of the Month for April.
"Financial literacy is more than just dollars and cents. It's about teaching essential, sustainable life skills that will make a positive impact on young people for the rest of their lives," Treasurer Loftis explained. "Mr. Chappell's expertise makes him an excellent educator, but it's his passion for sharing this knowledge with students, teachers and school administrators that makes him such a powerful and effective voice for financial literacy."
A native of Columbus, Georgia, Chappell has taught social studies at HCS Early College High School for the past 10 years. During this time, he's incorporated personal finance into his economics curriculum to empower students with financial knowledge and has presented numerous financial literacy professional development sessions for Horry County Schools and the South Carolina Council for Social Studies. Chappell most recently obtained his Master of Education from Coastal Carolina University in 2019, and prior to that, earned a Master of Arts in Teaching from Winthrop University in 2010.
"I'm excited to be a part of this program because improving financial literacy in South Carolina is going to take a team effort," said Chappell. "There is a tremendous need for meaningful, relevant and empowering financial education in our schools, and I believe I can do my share to help make an impact on students and teachers alike."
The South Carolina Financial Literacy Master Teacher Program provides incentives to K-12 teachers who are experts in the area of financial literacy and have a desire to teach professional development workshops to other educators in their schools and districts. Through the program, participating teachers will have access to specialized training and financial literacy curriculum resources that will better enable them to promote financial literacy education in K-12 schools.
Sponsored by Future Scholar, South Carolina's 529 College Savings Plan, and in partnership with SC Economics, this statewide financial literacy initiative aims to energize more teachers about the importance of incorporating personal finance education into their classrooms.
About Future Scholar
Future Scholar, South Carolina's 529 College Savings Plan, is administered through the State Treasurer's Office. For more information, visit FutureScholar.com or follow @SCStateTreasurer on Facebook. No state funds are used to market Future Scholar or the SC Financial Literacy Master Teacher Program.