State Treasurer Curtis Loftis Recognizes Sarah Ostergaard of Irmo High School as Educator of the Month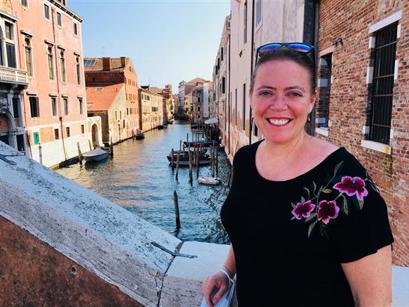 South Carolina Treasurer Curtis Loftis has recognized Irmo High School's Sarah Ostergaard as the South Carolina Financial Literacy Master Teacher Program's Educator of the Month for December. 
"Ms. Ostergaard's credentials exemplify her outstanding experience in real world money matters, but it's her passion for teaching personal finance that's so impactful," said Treasurer Loftis. "The Financial Literacy Master Teacher Program is both unique and effective because it not only helps Ms. Ostergaard use her expertise to expand her students' knowledge, it also benefits her fellow educators as well."
"Thank you so much," Ostergaard said. "Our students are the reason for all we do; they inspire us to be the best teachers we can be because they deserve it! This year presents many challenges for everyone in our community, and I very much appreciate the support of Treasurer Loftis, the SC Economics organization, and my talented colleagues at Irmo High."
"As educators, the students are our focus," she continued. "Everything we do is intentionally planned to help them grow and succeed. Financial literacy is an important component of the Economics course every student takes to graduate." 
Ostergaard teaches Economics and U.S. Government at Irmo High School International School for the Arts, a public high school in Columbia. She earned a J.D. from the University of Virginia and a B.A. in Economics and Hispanic Studies from Connecticut College, and became certified to teach through South Carolina's Program for Alternative Education (PACE). She enjoys bringing real world experiences into the classroom.
The South Carolina Financial Literacy Master Teacher Program provides incentives to K-12 teachers who are experts in the area of financial literacy and have a desire to teach professional development workshops to other educators in their schools and districts. Through the program, participating teachers will have access to specialized training and financial literacy curriculum resources that will better enable them to promote financial literacy education in K-12 schools.
Sponsored by Future Scholar, South Carolina's 529 College Savings Plan, and in partnership with SC Economics, this statewide financial literacy initiative aims to increase teacher support and involvement in incorporating personal finance education into the curriculum.
About Future Scholar
Future Scholar, South Carolina's 529 College Savings Plan, is administered through the State Treasurer's Office. For more information, visit FutureScholar.com or follow @SCStateTreasurer on Facebook. No state funds are used to market Future Scholar or the SC Financial Literacy Master Teacher Program.