State Treasurer Curtis Loftis Recognizes Randall Scott of Lexington Technology Center as Educator of the Month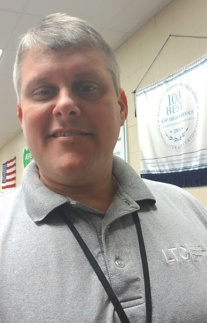 South Carolina Treasurer Curtis Loftis has recognized Lexington Technology Center's Randall Scott as the South Carolina Financial Literacy Master Teacher Program's Educator of the Month for February.
"We know that financial literacy is an important component of personal financial wellness, and we are passionate about recognizing educators like Randall Scott who are successfully sharing these important life skills with students on a daily basis," Treasurer Loftis said. "His experience in the banking and finance industry ignited a passion in him to pursue a career in education so he could help prepare future generations to make better financial decisions. We are certainly grateful for his participation in our new Financial Literacy Master Teacher initiative."
Scott spent eight years in the financial industry, working as a personal banker, assistant branch manager and branch manager of a bank as well as a finance manager of a car dealership. Upon moving to South Carolina, he entered the teaching profession through the PACE (Program of Alternative Certification for Educators) program while working at Pelion High School. PACE allows individuals with non-education degrees an opportunity to enter a teaching position based on their bachelor's degree concentration, coursework and professional experience.
Since taking over the Personal Finance Program at Lexington Technology Center, Scott has seen tremendous interest and growth among students, going from one class of 16 to now boasting seven sections with 24 students each. "We've had to turn students away because we did not have enough teachers trained to lead these classes. I'm excited to be part of the effort to train more teachers about teaching personal finance," Scott explained.
Lexington Technology Center has been recognized nationally for its personal finance coursework, and Scott has been named a Gold Star Teacher by the W!se Financial Literacy Program numerous times.
The South Carolina Financial Literacy Master Teacher Program provides incentives to K-12 teachers who are experts in the area of financial literacy and have a desire to teach professional development workshops to other educators in their schools and districts. Through the program participating teachers will have access to specialized training and financial literacy curriculum resources that will better enable them to promote financial literacy education in K-12 schools.
Sponsored by Future Scholar, South Carolina's 529 College Savings Plan, and in partnership with SC Economics, this statewide financial literacy initiative aims to energize more teachers about the importance of incorporating personal finance education into their classrooms.
About Future Scholar
Future Scholar, South Carolina's 529 College Savings Plan, is administered through the State Treasurer's Office. For more information, visit FutureScholar.com or follow @SCStateTreasurer on Facebook. No state funds are used to market Future Scholar or the SC Financial Literacy Master Teacher Program.