State Treasurer Curtis Loftis Recognizes Midlands Educator for Financial Literacy Efforts
South Carolina Treasurer Curtis Loftis recently recognized Diane Ryan of Columbia's Brennen Elementary School as April's Future Scholar Financial Literacy Program Educator of the Month.
Ms. Ryan, a guidance counselor, oversees the implementation of the Future Scholar Financial Literacy Program, in its first year at the Columbia school. Nearly 90 students, led by six teachers, currently participate in the program at Brennen.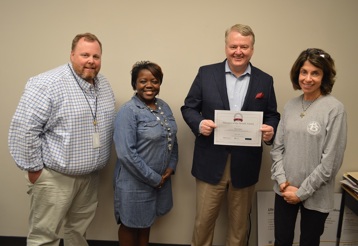 "Ms. Ryan has done a wonderful job promoting financial literacy to the students of Brennen Elementary School," Treasurer Loftis said. "Her efforts are so important because learning financial skills not only benefits these students as individuals. It also contributes to the future economic stability of our state as a whole."
"Financial literacy builds responsibility for students," Ms. Ryan said. "It's difficult for parents to take the time to teach their children financial skills when there are a host of other issues for them to address. As adults, the children will be able to make more informed and effective decisions by learning about finances in school."
"Financial literacy is a crucial component in a well-rounded education," Ms. Ryan added.
The Future Scholar Financial Literacy Program, offered to elementary and middle schools across the state at no cost to taxpayers, is a web-based financial management course that focuses on skill building, budgeting and decision-making.
For more information or to learn how you can bring the Future Scholar Financial Literacy Program to your classroom, visit www.scfuturescholar.everfi.com.
About Future Scholar
Future Scholar, South Carolina's 529 College Savings Plan, is administered through the State Treasurer's Office. For more information, visit FutureScholar.com or follow @SCStateTreasurer on Facebook. No state funds are used to market Future Scholar.