State Treasurer Curtis Loftis Recognizes Maegen Whitten as April Educator of the Month
South Carolina Treasurer Curtis Loftis recently recognized Maegen Whitten of James Island Elementary School as the Future Scholar Financial Literacy Program Educator of the Month for April.
A fifth-grade teacher at the Charleston County school, Whitten says she is incorporating financial literacy into her math curriculum to demonstrate real world examples of how math relates to personal finance decisions people make every day.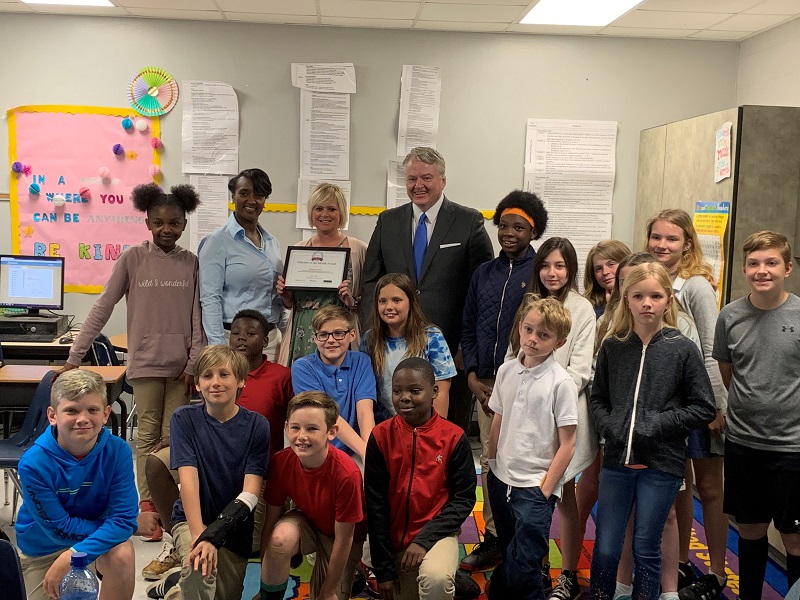 "Financial literacy is an important life skill," Whitten added. "I love how the program allows students to perform specific tasks that enhance their understanding of money in order to build these skills."
The Future Scholar Financial Literacy Program features a web-based, interactive curriculum that uses the Vault Program, powered by Everfi, to engage students and make learning financial skills interesting and fun. The Program is administered through the Office of State Treasurer.
"We are grateful for teachers like Ms. Whitten who are showing students how to make sound financial decisions at a young age," Treasurer Loftis said.  "I always enjoy hearing that students are already using these lessons to shape their spending and saving habits.  The skills they are practicing will help prepare them for more complex financial decisions and economic success in the future."
The Future Scholar Financial Literacy Program, a web-based financial management course focused on skill building, budgeting and decision-making, is offered to elementary and middle schools across the state at no cost to taxpayers.
Since its launch in 2015, the Future Scholar Financial Literacy Program has grown to reach 267 schools and impact approximately 30,000 South Carolina students.
For more information about the Future Scholar Financial Literacy Program, visit scfuturescholar.everfi.com.
About Future Scholar
Future Scholar, South Carolina's 529 College Savings Plan, is administered through the State Treasurer's Office. For more information, visit FutureScholar.com or follow @SCStateTreasurer on Facebook. No state funds are used to market Future Scholar or the Future Scholar Financial Literacy Program.