State Treasurer Curtis Loftis Recognizes Angelia Jackson of Georgetown High School as Educator of the Month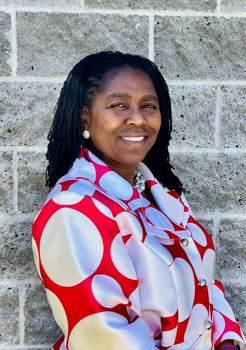 South Carolina Treasurer Curtis Loftis has recognized Georgetown County School District's Angelia Jackson of Georgetown High School as the South Carolina Financial Literacy Master Teacher Program's Educator of the Month for October.
"Ms. Jackson is giving her students an important knowledge of personal finance that will serve as a foundation for building more complex money management skills," said Treasurer Loftis. "We are grateful that the passion and dedication she brings to the Financial Literacy Master Teacher Program will continue to benefit these students for years to come."
Jackson received her undergraduate degree from Limestone College and her Masters of Business Administration from Webster University. She began her teaching career in higher education before transitioning to the South Carolina public school system. For the past four years, she has taught Entrepreneurship, Marketing, Sports and Entertainment Management, and Business Data Application at Georgetown High School, where she is department chair for Career and Technical Education. Outside of school, Jackson serves as president of the St. John Association Pastor's Wives.
"As an educator, I would love to be able to help my students rethink their financial decisions as they move through their high school careers and beyond to become more productive citizens," says Jackson. "Knowledge is the best tool anyone can possess to have a better life to becoming debt free."
The South Carolina Financial Literacy Master Teacher Program provides incentives to K-12 teachers who are experts in the area of financial literacy and have a desire to teach professional development workshops to other educators in their schools and districts. Through the program participating teachers have access to specialized training and financial literacy curriculum resources that better enable them to promote financial literacy education in K-12 schools.
Sponsored by Future Scholar, South Carolina's 529 College Savings Plan, and in partnership with SC Economics, this statewide financial literacy initiative aims to increase teacher support and involvement in incorporating personal finance education into the curriculum.
About Future Scholar
Future Scholar, South Carolina's 529 College Savings Plan, is administered through the State Treasurer's Office. For more information, visit FutureScholar.com or follow @SCStateTreasurer on Facebook. Future Scholar is self-supported and does not receive taxpayer funding.