State Treasurer Curtis Loftis Announces 21 Statewide Winners of Future Scholar "Making Bank" Contest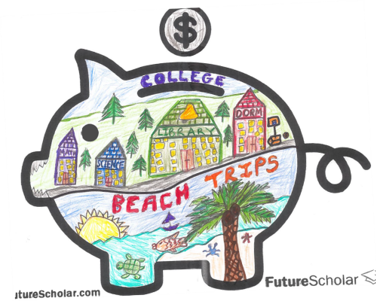 As part of the April observance of Financial Literacy Month, State Treasurer Curtis Loftis announced that 21 elementary-age students will each receive a privately-funded $529 Future Scholar college savings grant as winners of the Future Scholar "Making Bank" Contest.
The statewide financial literacy contest encouraged students to use a piggy bank template to create artwork illustrating things they were excited to be saving their money for and highlighting their understanding of needs versus wants.
"It's never too early to start talking with your children about creating good financial habits, and the 'Making Bank' contest was a fun way to help teachers and families explore these important topics with young children," said Treasurer Loftis. "We loved seeing the children's artwork and creativity. After conferring with our judges panel of SC Financial Literacy Master Teachers, we are pleased to award all of these students Future Scholar grants to help jump start their college savings."
Approximately 2,100 students from 45 schools across the state registered to participate in local "Making Bank" contests, with each school naming first, second and third place winners who received Future Scholar prize packs. Teachers of the school winners also received Amazon gift cards, and the top school entry was then elevated to the statewide competition.
About Future Scholar
Future Scholar is South Carolina's 529 College Savings Plan, administered by the State Treasurer's Office. The plan has more than $5.6 billion in assets under management and is credited with helping more South Carolina families save for their loved ones' future education than ever before. For more information, visit FutureScholar.com or follow @SCStateTreasurer on Facebook. No state funds are used to market Future Scholar or administer the Future Scholar "Making Bank" contest.
---
Statewide "Making Bank" Winners:
Luna Raine Powers, 2nd grade student at Andrews Elementary School in Georgetown County School District 
Eleanor "Ellie" Allen, 2nd grade student at Buist Academy in Charleston County School District 
Jordyn Pringle, 1st grade student at Caughman Road Elementary School in Richland 1
Luke Andrew Patterson, 1st grade student at Cherokee Trail Elementary School in Abbeville 60 
Maizii Johnson, Kindergarten student at Dutch Fork Elementary School in Lexington-Richland 5 
Markayla Gavin, 2nd grade student at Elloree Elementary School in Orangeburg County School District 
Heidi Peden, 1st grade student at Fork Shoals Elementary School in Greenville County Schools 
Claire Curby, 2nd grade student at Fort Mill Elementary School in York 4 
Carlee Bagwell, 2nd grade student at Gallman Elementary School in School District of Newberry County
Alexander Acevedo Garcia, 1st grade student at Grove Elementary School in Greenville County Schools 
Anabella "Bella" Vargas, 2nd grade student at Hilton Head Island Elementary School in Beaufort County School District
Caleb Esquivel-Olvera, 2nd grade student at Hollywood Elementary School in Saluda County Schools 
Bradley "Brad" Gonzalez Gomez, 1st grade student at Hunley Park Elementary School in Charleston County School District 
Genevieve Mozelle Salley, 1st grade student at Lexington Elementary School in Lexington 1
Cayden Cannon, Kindergarten student at McCrorey-Liston School of Technology in Fairfield County School District 
Ethan Myoung, 1st grade student at Nexton Elementary School in Berkeley County School District 
Waylon Roberts, 2nd grade student at North Central Elementary School in Kershaw County School District 
Deena Ford, 1st grade student at R.E. Davis College Preparatory Academy in Sumter School District 
Ava Paige Kidd, 2nd grade student at River Trail Elementary School in York 4 
Sebastian "Palmer" Revis, 1st grade student at Riverwalk Academy in S.C. Public Charter School District
Darya Denisenko, 1st grade student at Gold Hill Elementary School in York 4