How Two Parents Used Future Scholar to Save More for College – A Case Study
Like most parents, Laura Blanton, of Greenville, and John Mack, of Moore, stay busy. When they aren't working, they enjoy spending time with their families and try to plan ahead when they can.
So when the Blantons and the Macks began thinking of their children's future, both turned to the Future Scholar 529 College Savings Plan for a little help.
Different Situations, Same Motivation.
While their motivations for opening an account were similar – getting a jump on saving for college – their situations were different.
As a financial services advisor, Blanton was already familiar with Future Scholar and its tremendous tax benefits, having recommended the plan to many of her own clients who had gone through the college planning process.
So when her first child, Emmit, was born, she knew exactly what she wanted to do: open a Future Scholar account.
"I enrolled as soon as I had a social security number," she said.
Not only was it as easy to open as she had often told her clients, Blanton loved the fact that other family members, including Emmit's grandparents, could also participate.
"We are swimming in toys," she said. "So I love being able to tell family members that, if you want to get him a toy that's fine, but you can also contribute to his college fund as another option."
For Mack it was about finding a plan for his youngest child, Lauren, similar to funds he'd already opened for his two boys quite a few years earlier. So when commercials for Future Scholar began popping up on TV, he was convinced he'd found the right plan.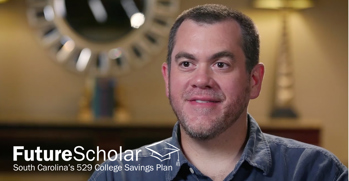 The tax benefits Future Scholar offered were particularly attractive, Mack said, especially the dollar-for-dollar tax deduction South Carolina residents could claim.
"So anything I put towards the plan, I can deduct from my state taxes as well," he said.
He also liked that contributing the plan could be automated, which allowed him to basically "set it and forget it."
"I have mine set so that it comes directly out of my checking account, but if for some reason you need to postpone a contribution you can pause it for a few months," he said. "So it's really easy to manage, and I don't have to think about it."
How Future Scholar Helped.
While both Blanton and Mack were initially drawn to the plan for different reasons, both have come to the same conclusion – Future Scholar is key to saving more for their children's future.
"The landscape for higher education is changing all the time," Blanton said. "It's gotten so much more expensive to the point that now it's totally different from when I was in school."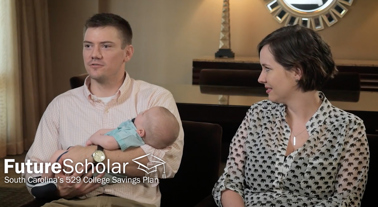 With that in mind, Blanton did not want her child saddled with excessive debt from student loans. "I was fortunate to graduate without debt and so that was a huge relief so having a good start in life is something I want for him."
Mack also cited the peace of mind that Future Scholar provides.
"Knowing that my children will have the money to go to college and I don't have to worry is great," he said. "And it really adds up. I'm surprised by how much is already in there and we've only had it for a few years. It's performing quite well."
Blanton agrees with Mack.
"It's reassuring to have a plan," she said. "I know that's what will lead to meeting my goal of not saddling him with a ton of debt. Creating a plan and setting it in motion is key and it's very reassuring."
Find Out More.
For more information on Future Scholar and how to get started saving, visit www.FutureScholar.com.