ConGRADulations to our Sweepstakes Winners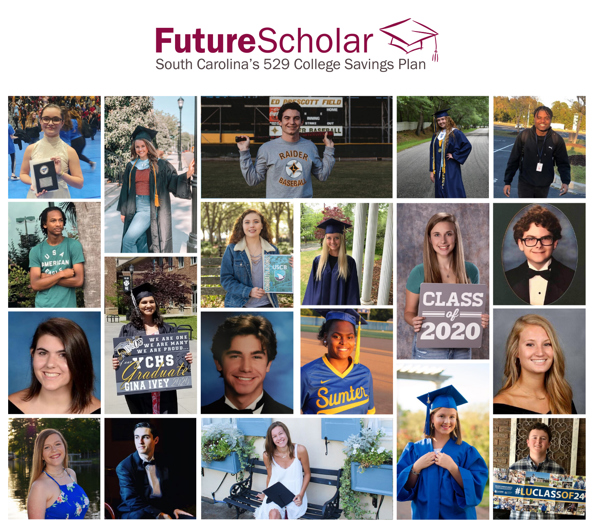 Future Scholar, South Carolina's 529 College Savings, wanted to say conGRADs to the Class of 2020 and South Carolina families helped mark the special occasion by participating in the Future Scholar ConGRADulations Facebook Sweepstakes. At the conclusion of the sweepstakes, 20 South Carolina high school seniors were selected in a random drawing to each receive a privately funded $529 contribution to their Future Scholar account to help with college expenses.
From Maya Angelou quotes to a simple "Love you, Peanut," participating parents' messages for their graduating seniors were filled with pride and joy, and we thank the families that helped us salute the Class of 2020. Congratulations to all of our winners:
Angie Chapman Willis, on behalf of Ashlynne Waters
Brian Culp, on behalf of Paige Culp
Carol Cochran Ivey, on behalf of Gina Ivey
Cedric Kirkman, on behalf of Gabby Kirkman
Dallas Richard Pridgen, on behalf of Aidan Pridgen
Darren Allison, on behalf of Michael Allison
Denise Kirk Leasure, on behalf of Kaleigh Elisabeth Leasure
Ellen Countryman, on behalf of Claire-Elizabeth Countryman
Jacqueline Merritt Keisler, on behalf of KaSaan Keisler
Jennifer Brunson, on behalf of Caleb Brunson
Jennifer Epps Marcengill, on behalf of Abby Marcengill
Jennifer Miles Davis, on behalf of Sydney Davis
Kevin Mischke, on behalf of Samantha Mischke
Lisa Goldsmith, on behalf of Kayla Goldsmith
Lisa Rzoska, on behalf of Blake Rzoska
Marcia Womble, on behalf of Walt Womble
Pamela Willard Kelley, on behalf of Ruby Grace Kelley
Stephanie Goen Cauthen, on behalf of Marlee Cauthen
Tiffani Walker, on behalf of Cameron Coakley
Toni Tregde, on behalf of Amanda Tregde
About Future Scholar
Future Scholar, South Carolina's 529 College Savings Plan, is administered through the State Treasurer's Office. For more information on Future Scholar and how to get started saving, visit FutureScholar.com. No state funds are used in marketing Future Scholar or awarding $529 grants.