Looking for the Perfect Gift This Holiday Season? Try Future Scholar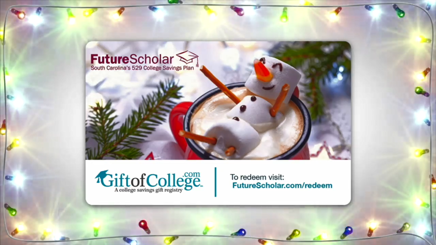 Is there anything more challenging than picking out a holiday gift for a child? Whether it's a niece, nephew, grandchild, or godchild, finding just the right gift – that won't go out of style by spring – seems nearly impossible…
What size shoes does a 4-year-old wear?
Does my niece already have this book?
What if my order doesn't arrive on time?
Should I really be out holiday shopping this year?
We all wrestle with questions like these, and the unique circumstances we're facing this year make them even more challenging than usual. But don't worry – you won't have to lose sleep over holiday gift giving.
We have an option that works for every child and all ages – the gift of education. This holiday season, making a contribution to a child's Future Scholar 529 College Savings Plan is the perfect choice. Here are a few reasons why:
6 Reasons to Gift Future Scholar This Holiday Season
1. No Shopping
The typical holiday shopping experience isn't exactly that leisurely stroll down Main Street while sipping a cup of cider we see in the movies. It's typically characterized by long lines, overflowing parking lots, and shelves more picked over than a Thanksgiving turkey.
When you give the gift of education by contributing to a Future Scholar 529 College Savings Plan, you don't have to brave the cold weather or battle other shoppers for sale items. Instead, you can sit at home, curl up in a cozy chair, and enjoy your favorite Christmas movie. Cider is optional.
2. No Crowds
Holiday shopping crowds are never something to look forward to, but this year, facing throngs of people is less appealing than ever. In fact, staying home and avoiding crowded places just may be the healthiest option. And with Future Scholar, you can do just that.
3. No Shipping Stress
You can always shop online for a holiday gift, but like everything else, it's a bit trickier this year. Due to higher demand, shipping delays could prevent shipments from arriving on time. With electronic options from Future Scholar, you'll never have to worry about your gift getting stuck in transit. It'll arrive precisely when you want it to!
4. One Size Fits All
With Future Scholar, you won't have to wonder about whether or not an important child can use your present, if it will fit, or if it's "trendy" this season. Investing in a child's future education is always the perfect one-size-fits-all gift.
5. The Gift That Gives Back
How many times are you (the giver) rewarded for giving a holiday gift? Well, with a Future Scholar contribution, that's precisely what happens. Since all contributions are tax-deductible from your South Carolina state income taxes, you're not only helping fund a child's education, you're also saving a little money in the process.
6. 'Tis The Season
Honestly, the best time to invest in a child's college education was yesterday, but the next best time is today. Money invested today has more time for potential growth than money invested in the future. So, if you wonder if a child is too young to appreciate a Future Scholar 529 College Savings Plan contribution, think of it like this: the earlier you give, the more they'll appreciate it when the time comes to pay for college. Do them a favor by funding an account today.
Give the Gift of Education
Whether contributing via gift card, setting up an eGift, or contributing by mail, we make it easy for you to fund any child's Future Scholar 529 College Savings Plan and play a vital role in equipping and shaping the next generation of leaders. Just send the gift, and the child's parent or legal guardian can deposit it into their Future Scholar account. If they don't yet have an account, enrolling will be simple. And you'll have the satisfaction of knowing your gift set them on the path to college savings. 
Congratulations! The search for the perfect holiday gift is over. With Future Scholar, you'll not only avoid the hassles and stress of traditional shopping, but you'll also bless any child on your list with the gift of education.