How to Take the Scaries Out of College Savings
Goblins, ghouls and ghosts...oh my! October has arrived. And along with the crisper air and falling leaves, Halloween is right around the corner.
While neighborhood pranksters may try to give you a little fright this Halloween, saving for college doesn't have to. As intimidating as it can feel at this stage, funding your child's college education is simpler, and less scary, than most people realize.
Read on to find out how you can ward off the "scaries" and set your child up for the ultimate treat: funding his or her college education.
Avoid the Trick and Make Saving for College a Treat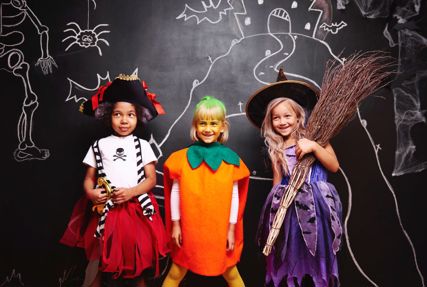 Buzz surrounding the rising cost of college tuition can be deafening at times. And while it's true that a college education can be expensive, that doesn't mean it's unaffordable. Let us show you how you can begin funding a college savings plan that can grow over time.
1. Get Started Today
The easiest way to kiss the scaries goodbye is to get started saving early. Beginning contributions as soon as possible is the easiest way to increase the earning potential of your college savings account and make compound interest work for you. There's no minimum requirement to begin saving, so there's nothing frightening about getting started.
And, thankfully, when you open a 529 college savings account with Future Scholar, there are no complicated enrollment processes. Our new online application walks you through each step, making it quick and easy:
Provide some basic information (name, address, etc.), designate a beneficiary, and pick which contribution method suits you best.

Select your investments from a list of choices.

Establish your username and password and confirm your enrollment

It's the no-fear approach to saving for college!
2. Set Up Automatic Contributions
If you're someone who likes your investments to be "out of sight, out of mind," you'll be thrilled to know that Future Scholar offers automatic contributions. Just set the amount, choose a recurring date, and let your contributions go into your account each period. You'll rest easier, knowing you're saving for your child's education without stressing over the details.
3. Throw Extra Money into Your 529 Plan
Worried that you won't have enough saved for your child's education - even with consistent automatic contributions? Many South Carolina families are able to find extra money by:
Increasing contributions with each raise.

Make a habit of increasing your 529 contribution every time you get a raise, and you'll find it really adds up over time. One good rule of thumb is to take 10 percent of every raise and allocate that money to your 529 plan. For example, if your income increases by $200 per month, you immediately increase your automatic contribution by $20.
Cutting expenses.

Whether it's canceling a streaming service you don't use very much, eating one less dinner out each month, or terminating a gym membership and exercising at home, many families are able to find an additional $50 to $100, or more per month without having to lift the couch cushions!
Contributing bonus money.

Any time you get "bonus" money, throw some or all of it at your college savings plan. This could be a tax refund, a gift, or a surprise work bonus – anything you weren't expecting or planning for in your budget.

Don't be frustrated if your initial contributions seem low. As you can see, there are plenty of ways to increase the amount over time. And remember, friends and family can also contribute to your child's account.
4. Consider the Age-Based Investment Option
Future Scholar offers three ways to invest including our most popular choice, the Age-Based Investment Option.
With the Age-Based Investment Option, your investment strategy tracks with your child over time. As enrollment in college draws nears, the mix of investments automatically shifts from more aggressive equities to more conservative fixed-income and money market mutual funds.  To select this option, just pick the track (conservative, moderate or aggressive) that best meets your risk tolerance and savings goals.
Of course, if you want to build your own investment portfolio, we have something for you, too.  Be sure to check out our Target- Allocation or Single-fund Investment Option. 
Open a Future Scholar 529 College Savings Plan Today
With Future Scholar, South Carolina's 529 College Savings Plan, funding your child's college education doesn't need to be the least bit scary. In fact, when you open a Future Scholar account for your student, you'll also get a treat - immediate access to a long list of benefits, including tax advantages and a variety of flexible investment options. 
For nearly two decades, Future Scholar has been helping South Carolina families just like yours reach their financial goals in saving for a child's education. Let us help you take the scaries out of saving for college, too!