$3 Billion and Growing: Checking in With Future Scholar One Year After Major Milestone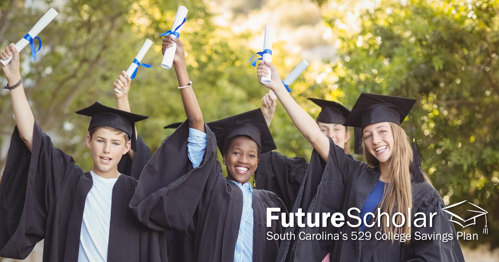 A year ago, Future Scholar surpassed the $3 billion mark for total assets under management, so where does South Carolina's most popular college savings vehicle stand now? It's time to check in with the Future Scholar 529 College Savings Plan.
In 2017, Future Scholar's direct-sold plan exceeded $1 billion in assets, primarily from South Carolina residents. Its financial advisor-sold plan held another $2 billion in assets, pushing the Future Scholar 529 College Savings Plan past the $3 billion mark.
This year, the incredible growth has continued. Today, the plan holds more than $3.4 billion in total assets under management. In addition, more than 150,000 account holders are saving for a child's brighter future, up from 130,000 account holders just a year ago.
"The amazing growth Future Scholar has experienced is exciting because it represents more children who are on the path to achieving a college education without the burden of staggering debt," said South Carolina Treasurer Curtis Loftis, whose office administers the Future Scholar plan.
One of the reasons for the plan's increased popularity, Loftis explained, is South Carolina's dollar-for-dollar tax deduction.
"That's something not every state offers with its 529 plan," Loftis said. "So we're proud we have been able to provide the tax deduction here in South Carolina. It's very satisfying to help parents and grandparents save more of their tax dollars, and it's a huge bonus for them when they are helping plan for a child's future."
The plan has also received numerous accolades in the last few years:
Awarded a bronze rating for both its Direct and Advisor Programs by Morningstar®
Received a "5 Caps" rating – the highest ranking given by SavingforCollege.com
Praised by Money Magazine, The Wall Street Journal and Savingforcollege.com
Named one of the best 529 plans in the country by Forbes
"Future Scholar has become an attractive plan for residents and non-residents alike," Loftis said, "because it truly is the smart, easy way to save for college. We have worked hard to make it an outstanding plan, and we are looking forward to many more years of continued growth and success."
Find Out More.
For more information on Future Scholar and how to get started saving, visit www.FutureScholar.com.